Minna No Gohan (Rice for everyone)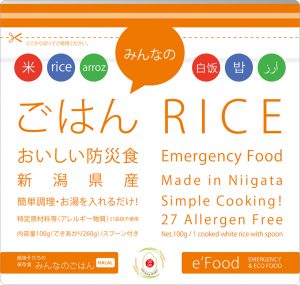 This product can be eaten just by returning with hot water or water. simple cooking alpha rice. (Including meal spoon)
Foreign nationals visiting Japan are estimated to be 28.69 million people (according to the 2017 Tourism Agency survey) and will continue to increase in the future. Safety and peace of mind to visit this disaster power country, Japan.。
Brief explanation and follow-up site (within Eco Rice HP limited company) with QR code
Allergic substances, etc. 27 items Not used
Save for 5 years
Agree with SDGs (Sustainable Development Goals)
Product features
Proprietary patent manufacturing method
No addition, no medicine is used, potassium, electrolyte is reduced. It is a flavor of very natural rice.
"Barrier free" alpha rice
Everyone can eat at the time of a disaster without choosing people to eat, such as old persons, food allergies, liver diseases, etc. Also, as raw materials are only rice, we will not mention contraindications (Islam) people (halal) etc I can recommend it. International, barrier free alpha rice.
As a stockpile
It is used for the stockpiling of municipalities throughout the country.
Follow-up site (within EcoRice Niigata's HP), "How to make" in six languages ​​(Japanese, English, Portuguese, Korean, Chinese, Arabic), 27 items of allergies Details (picture), recipe video (English subtitles) etc are posted.