Natural disaster-prone area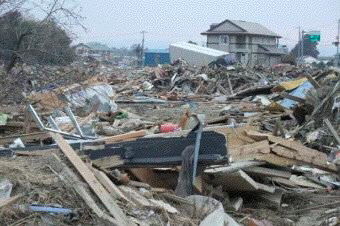 The recent major earthquakes in Niigata Prefecture are as follows:
1964 "Niigata earthquake"
2004 "Niigata Chuetsu Earthquake"
2007 "Niigata Chuetsu-oki Earthquake"
Three earthquakes are occurring only by large ones.
In addition, the earthquake in Northern Nagaoka occurred on February 2, 1961, the earthquake in Niigata Prefecture occurred on April 1, 1995, the earthquake in Northern Nagano Prefecture that occurred on March 12, 2011. The damage caused by these is enormous.
In addition to the earthquake, floods caused by heavy rain, disasters caused by heavy snow frequently occur, Niigata is exactly a natural disaster-prone area.This can also be said as the "back face" of rich nature. I think that there are products that can be made because we are in Niigata who knows this difficulty.
Drinking Water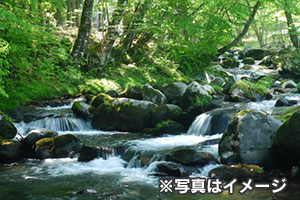 There are our factories in the rice field, Niigata Prefecture Minami Uonuma, which has a mountain view of 1,718 meters, Mt.Hakkai.
There are many reasons why Minamiuonuma became Japan's leading rice field.
The flow of Japan's longest river, the Shinano River, carries high-quality clay-based soil containing a lot of nutrients to the Echigo Plain and makes a fertile soil necessary for rice production.
And when the rice is fruit (around September) the average temperature is 25 ℃, making it suitable for making rice.
Also, for the human beings harsh heavy snow is a critical condition to make delicious rice. During the winter, the heavy snowfall that fell in the mountainous area elutes in the spring, contains a large amount of nutrients of the decayed leaves made of the fallen leaves of the forest, and moisturizes the paddy field of the Echigo Plain.
In addition, there are professional farmers who make rice, whose experiences and information were handed down generously. There are many farmers who continue to challenge each day, such as new agricultural methods, varieties, techniques (Ex. drone, AI, GPS, etc.), looking to the future of agriculture here in Niigata.
Meeting these conditions, delicious rice of Minami Uonuma in Niigata Prefecture is made. And our rice products all use this Niigata rice.
As Team Niigata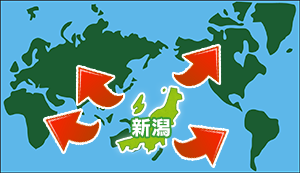 We and other companies in Niigata Prefecture, educational institutions, administrative agencies, etc. team together to create the future of Niigata. Each company brings up technologies, solving problems, and developing products.
To the world market
Agriculture-based value network which works only in Japan is entering a tough age.
As a local area, we are stepping up step by step to grasp the rules and break through the barriers, with a view to advancing directly to the global market.
In Minamiuonuma City there is the first graduate university in Japan called "International University of Japan". Students of various races and religions are in school and 90% are international students from countries other than Japan.
We deepen our partnership by taking questionnaires to the students and delivering rice for the event. Our delicious rice was also delivered to "INTERNATIONAL ONIGIRI FESTIVAL" held in 2018.
Also as our efforts, we received Halal certification for emergency food and alpha rice. Imagine delivering products to customers' tables around the world, we will continue to develop global business while cooperating with other companies and organizations.